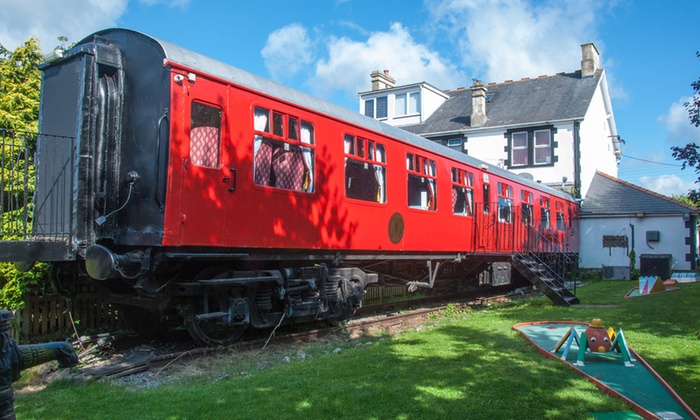 Naked Dining in a Pullman Train Coach - optional camping
South West Event details
Naked Dining in 'The Carriage' at The Old Station Inn, Hallatrow, Somerset.
Sunday 27th May from 7.00pm
£21.95 for all three courses - BOOK ONLINE HERE
For more information please contact: Sandra.ballard@sky.com 
Nestled equidistant between Bath, Bristol and Wells lays The Old Station Inn and Carriage restaurant. The Hotel, originally commissioned for the now closed Hallatrow Railway station was built in the 1920s and is a fine example of the architecture of the period.
With obvious links to the railways it also features an old Pullman carriage as its restaurant, which has been lovingly restored to all its former glory. This was modelled on the iconic Royal Scotsman's dining car and is both elegant and welcoming. Here's your opportunity to dine naked in real style...
Make a weekend of it and stay a mile away at  Cam Bridge Barn Naturist Site!
Pullman carriage menu
Starters
• Soup of the day with crusty bread 
• Goat cheese tart with tomato chutney 
• Classic prawn cocktail 
• Caesar salad with garlic croutons and anchovies 
• Tempura shrimp with sweet chilli 
• Crispy crab cake with mango salsa
 Main courses
• 10oz rump steak with fat chips, salad, crispy onions and herb tomato 
• Today's fresh fish and chips with peas and salad garnish 
• Stuffed chicken with smoked cheese wrapped in Parma ham fresh veg, pesto mash 
• Wild mushroom risotto stuffed butternut squash, rocket pine nuts and parmesan 
• Shrimp, Scallop and chorizo Kebab, tossed salad, fat chips
 Desserts 
• Croissant bread and butter pudding with custard 
• Caramelized lemon tart • Chocolate mousse trio 
• Profiteroles with whipped cream and chocolate sauce
Coffee or tea 
Venue:
The Old Station Inn & Carriage Restaurant
Wells Road
Hallatrow
Somerset
BS39 6EN
Camping
Depending on numbers there are a few sessions that are planned and may include:
•    Walks
•    Basket Weaving 
•    Glass Decorating
•    Wild Swimming
•    Massage/therapies 
•    Fire pit sing-alongs 
•    BBQ