Event details
FOOD IN THE NUDE
Location
27 Curtis Industrial Estate, North Hinksey Lane, Oxford OX2 0LX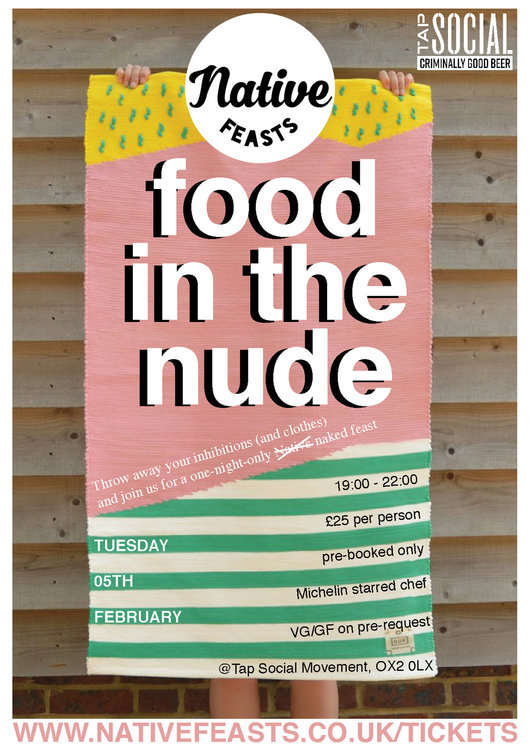 If you came to one of our sell-out 'Tapas Social' nights at the brewery in 2018, you will know the drill: Arrive for a pint or a flight of Tap Social's awesome beers at the bar (pale ale or perhaps porter will make sense), with the 4 course dinner taking place on breweries mezzanine. Feel free to stick around for drinks after, the bar will be open until 10.30pm.
Roasted winter veg chaat, tamarind, coconut yoghurt
Hummus, charred cauliflower, pomegranate, raisin & caper dressing
Confit duck, orange braised endive, puy lentils & celeriac
Ginger cake, forced Yorkshire rhubarb, treacle sauce
*vegan/GF option on pre-request at booking
The brewery will be completely closed to the public and there will be a mix of seasoned naturists and have-a-go first timers, creating an informal, comfortable atmosphere within which to enjoy a Michelin quality dinner from Native's chef Chris Godfrey (currently undecided if he is stripping off or not), in the nude, in a brewery. Cos why not?!
Dinner is £25 per person
Cash / card bar all night
VG&GF option (pre-request only)
arrive from 6.30pm for drinks
dinner begins at 7.30pm
dinner ends 9.30pm
bar  open until 10.30pm
User Feedback
There are no reviews to display.