Kiss and Tell - Rodin in Ipswich
FULLY BOOKED
Eastern Region has arranged a private viewing of a special art event at the beautiful Christchurch Mansion in the centre of Ipswich in Suffolk.
Saturday 23rd March 2019 17:00 to 19:00
This winter, join us in Ipswich for what will be East Anglia's once in a lifetime exhibition. Discover the tale behind the lovers in Auguste Rodin's life-size marble sculptureThe Kiss and the work of literature that inspired it. This monumental artwork, on loan from the Tate, is a significant piece in the history of sculpture.
Several of Rodin's sculptures on loan from the Tate and East Anglian museums and galleries will be displayed in this major exhibition, including portrait sculptures of French novelist Honoré de Balzac and two more of Rodin's sculptures inspired by movement and dance.
Discover depictions of the body in its natural state and in movement, through sculptures and life drawings from the Ipswich collection, including works by Pre-Raphaelite sculptor Thomas Woolner, Ellen Mary Rope, Maggi Hambling and Elisabeth Frink.
https://cimuseums.org.uk/event/kiss-and-tell-rodin-and-suffolk-sculpture/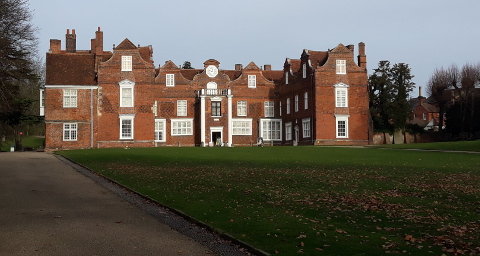 The Kiss as seen on our exploratory visit in January, and the frontage of Christchurch Mansion.
We have a 2-hour slot on a Saturday afternoon which will include a talk from the museum's art expert Emma Roodhouse, time to browse the exhibits and refreshments. The event will be naturist throughout.
The event will cost £5 per person for members (£6.65 for non-members) to cover the cost of the hire and refreshments. You can book your tickets here.
Please bear in mind that we will be going in via the Bolton Lane entrance, not the main gate in Soane Street. There is a small car park by that entrance and several others close by.  It will be light when we arrive but getting dark when we leave so it might be worthwhile to have a torch or phone with a light as the grounds are not lit. You will need the usual towel and a bag to store clothing.
The main display rooms have security CCTV.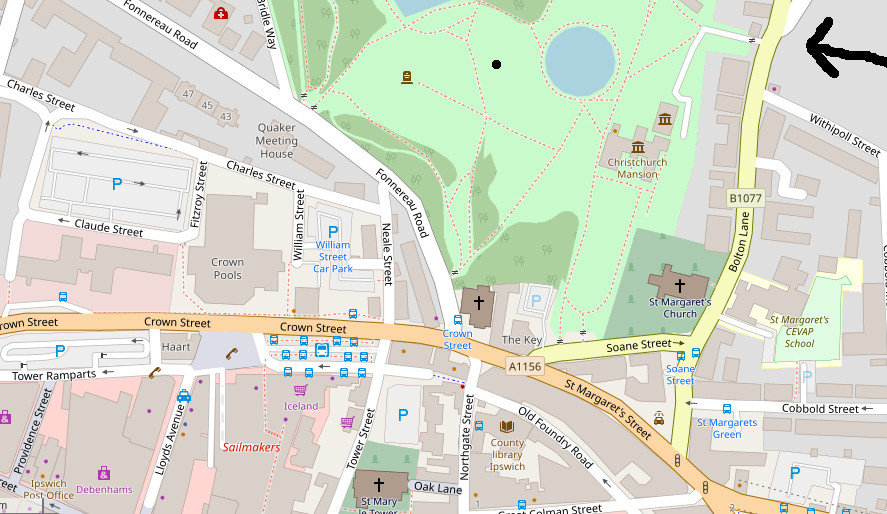 (Image from openstreetmap.org)