Event details
CIRCULAR WALK ERRWOOD RESERVOIR TO COMBS  MOSS (possibly extended to CASTLE NAZE)
***PLEASE BRING YOUR BN CARD*** EVENT created by BN MEMBERS for BN MEMBERS. An occasion for our local BN community to socialise, encouraging mixed genders & generations to enjoy Nude Walks within the safety of a group. 
'There is a NO DOGS  rule in force on the moor
FINALISED DATE THURSDAY 29th SEPTEMBER . Meet up at about 10.45am aiming to set off as a group by 11.00am. A lunch break will be arranged around 12.30-1,00pm 
(APOLOGIES FOR THE CHANGE again but stormy weather Tuesday followed by rain Wednesday cannot allow the walk to take place as a safe Naturist event. I regret the inconvenience it will cause for some) 
For any query, please contact me (Alain) through a BN private post or my role email nwsocialmedia@bn.org.uk and I shall respond ASAP.
This is our third and final Peak District Walk for the 2019 season. All participants will be provided with an O.S. Copy of the route, should they wish to renew the experience in future by themselves or with friends. Organisers will also have  BN advice paper copies concerning Public Nudity. 
Car-park location:  There are several around Errwood Reservoir. Please refer to the map below. Preferred parking is marked No.1 but if full, there is lots more parking 5 minutes walk across dam at No.2.
Distance: 10.5 km ~ 6.5 miles 
Climb: apprx. 257m ~ 840ft
Comments: First sector up to crossing A5004 (Buxton-Whaley Bridge) is steep footpath. Nudity is possible. After A5004 the path is in full view of public road then reaches White Hall children's outdoor adventure centre so cover-up is advisable. Beyond White Hall nudity is possible all the way to trig.platform and beyond. There are no official footpaths over Combs Moss but there are ramblers paths around the edge of the moor and along drystone walls across the moor so a circular return route is possible. On a sunny day midweek several hours nude walking are possible.

An extension of the walk continues to Castle Naze, an Iron Age hill fort at the north end of Combs Moss.
This is a promontory fort of probable Iron Age date. It uses the natural cliffs of the hill that it stands to protect its northern and western sides. It is triangular in form, and in order to protect its south eastern face, a very impressive double rampart of possibly later Iron Age construction has been thrown up.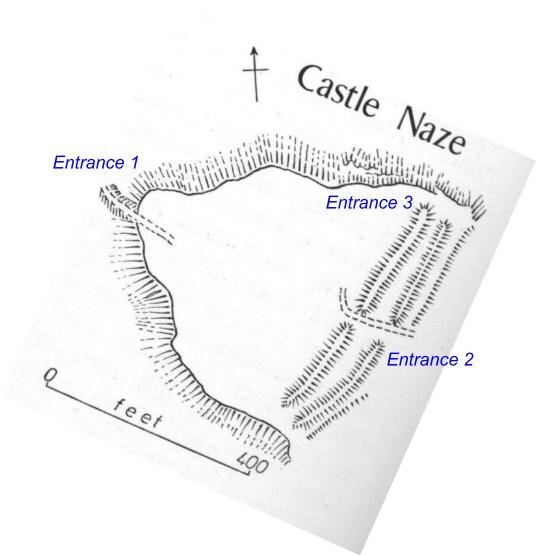 Please have a backpack with you with a warm top, cap, sun cream, waterproof if the weather turned. Water, picnic food, (trekking poles), walking shoes/boots as it could be possibly muddy in places. Take along anything light to carry but  you may need for your own comfort. A basic First Aid kit is also always advisable to carry with you.