Cancelled - Peterborough Lido Skinny-dip
Eastern Event details
As of March 2020, this event will not go ahead as planned. Due to the Covid-19 pandemic, the Lido will not open until later in the summer, if at all.
Three months on, in June 2020, the company managing the Lido for Peterborough council has given up and handed back its contract. The seasonal assets such as the Lido are not the council's priority and are unlikely to open at all in 2020. Let's hope that the pool is able to open next year and that we will still be welcome.
There will be an evening midsummer Skinny Dip at Peterborough Lido, on Saturday 4th July 2010, from 19:30 to 22:00.
(Photo by Brian)
BN Eastern Region did this for the first time last year, and despite picking the one dull day in a scorching week it was a great success. Not only did we get many of our own members but lots of first-timers as well.
This is beautiful old Lido with three pools, patio area, lawns and cafe. The water was really warm, ideal for swimming or games or idling.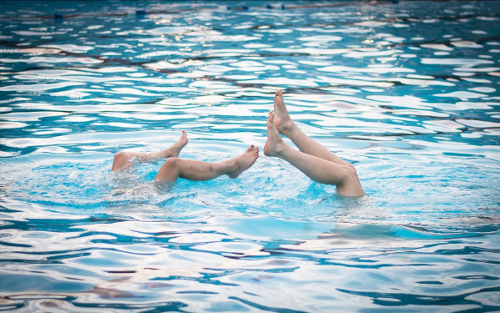 (Photo by Mark)
There will be a small fee, which we haven't fixed yet (it was less than £6 last year) and all you need to get in is a BN card or photo ID.
Put it in your diary and watch out for further details next year.
This map (from Open Street Map) shows the route in from the A1139 Frank Perkins Parkway. The Regional Pool car park indicated at PARK is free after 16:00.  The Lido itself is at LIDO.
nib 2019-11-11