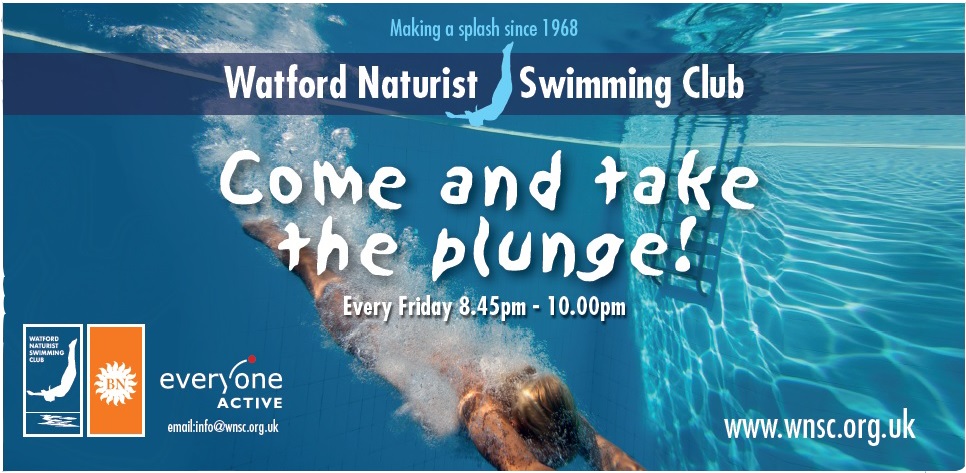 - Watford Naturist Swimming Club
Eastern This event repeats every week on Friday until 13/03/20
Event details
Watford Naturist Swimming Club welcomes newcomers to . Bring a photo ID - no need for a swimming costume. Discover the freedom, join in the fun.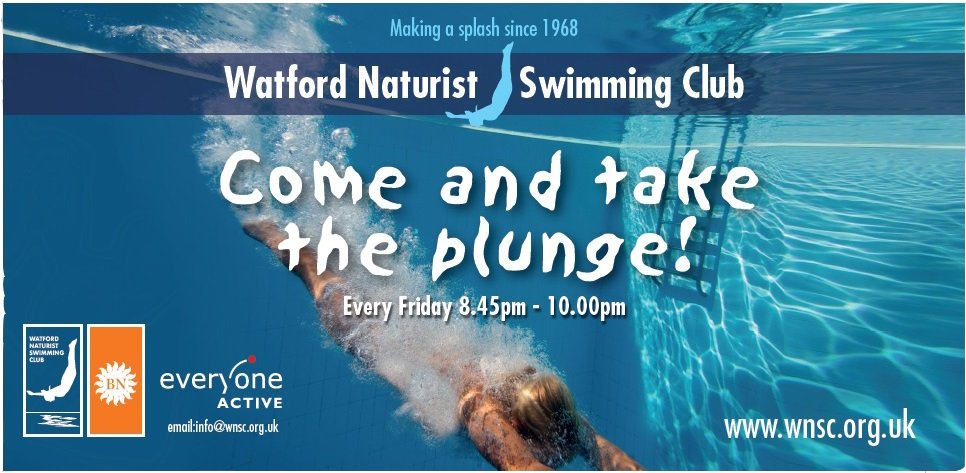 Watford Leisure Centre Central, Peace Prospect, Hempstead Road, Watford, WD17 3HA
Watford Naturist Swimming Club BN
If you have nothing on, 'Come and take the plunge'!
What's new at WNSC?
We now have a brand-new sauna and steam room available as part of our Friday night swim to complement our 25m pool with dedicated swimming lane.
Who are we?
We are a very friendly, family-orientated group of people. We welcome both first timers and seasoned naturists to come and join us at our Friday night swim to enjoy 'The WNSC Friday Feel Good Factor'! 
When?
Every Friday evening from 8:45pm to 10:00pm (except Bank Holidays). 
Entry fees: Visitors £6.00, Members £5.00, Children £1.00, Infants free.
BN and members of other Naturist clubs welcome. Please bring your membership card.
Non-BN members equally welcome: Email: info@wnsc.org.uk for an invitation
Visit: www.wnsc.org.uk for further information
Where?
Watford Leisure Centre Central, Peace Prospect, Watford, WD17 3HA.
Free parking is available in the car park to the rear of the leisure centre. You will need to display a ticket. Tickets are available free from the machine.
We are conveniently located with easy access to the M1/J5 and M25/J20.
Walking distance from Watford Town Centre and Watford Junction Train Station (1/2 mile).
1 hour from Northampton, Dartford, Weybridge, Oxford and Reading.
We look forward to seeing you soon!