'Boys in the Buff' - a Christmas comedy spectacular for adults
with a *Clothing Optional* performance
for everyone ...including the audience!
As Diana and her boys sing, dance and tell stories about self-confidence, body image, and society's unreasonably high expectations on our appearance, they share personal stories and dare each other to reveal more of themselves as the evening progresses.
An alternative to a traditional pantomime, with adult themes, 'Boys in the Buff' is the perfect festive show for having some fun at with your friends. You will leave with an enhanced self-worth, a song in your heart and share a few laughs along the way.
Award-winning The Garden Theatre is to present 'Boys in the Buff' indoors at Christmas-themed Drayton Arms Theatre, 153 Old Brompton Road, London SW5 0LJ from 15 December 2021 to
9 January 2022. With a *Clothing Optional* performance for everyone - including the audience - on Wednesday 22 December.
LAMBCO Productions and Peter Bull present Boys in the Buff
15 December 2021 to 9 January 2022
Contains nudity
Suitable for 15+
Tickets: £23.00
www.thedraytonarmstheatre.co.uk/boys-in-the-buff
* Audience members are not required to disrobe. We simply offer the opportunity to get naked to those who wish to do so. Every audience member that chooses to disrobe is required to bring a towel to sit on. You must be fully clothed outside of the theatre performance space (please note that the toilets are not inside the performance space). We reserve the right to refuse admission.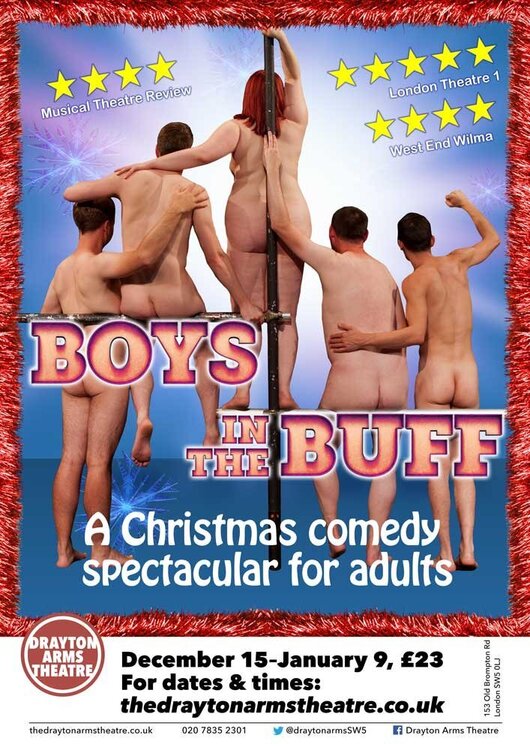 Edited by richardw9