A month after my 47th birthday I found myself for the first time living completely on my own.  I had a little apartment above a shop in a little village and in a "light bulb" moment I realised that I was my own boss, I could do anything I want to.
Unfortunately, 6 months later I was made redundant from the job I really loved, that of an ambulance driver and crew.
Now what was I going to do? 
At 48 I went back to college to study for a qualification in complementary therapies, one year on enrolled gain for another 2 years to now study for the HNC/D in Spa Management.
Phew what a busy 2 years, but still I felt that there was something missing in my life – what I needed was a hobby or interest.
Naturism was going to be the answer.
I had been fascinated and intrigued for a few years but never had the courage or time – but now –  I had nothing holding me back – so I took the plunge!!
I first read many articles in the BN magazine online, looked up places to go and chose Acorns Campsite in Devon.
May 3rd 2016 – OMG I felt sick for the whole 2-hour drive to Devon, what was I doing I am 49 ½ years old going on my own to a nudist campsite.
But how my life was to change that day.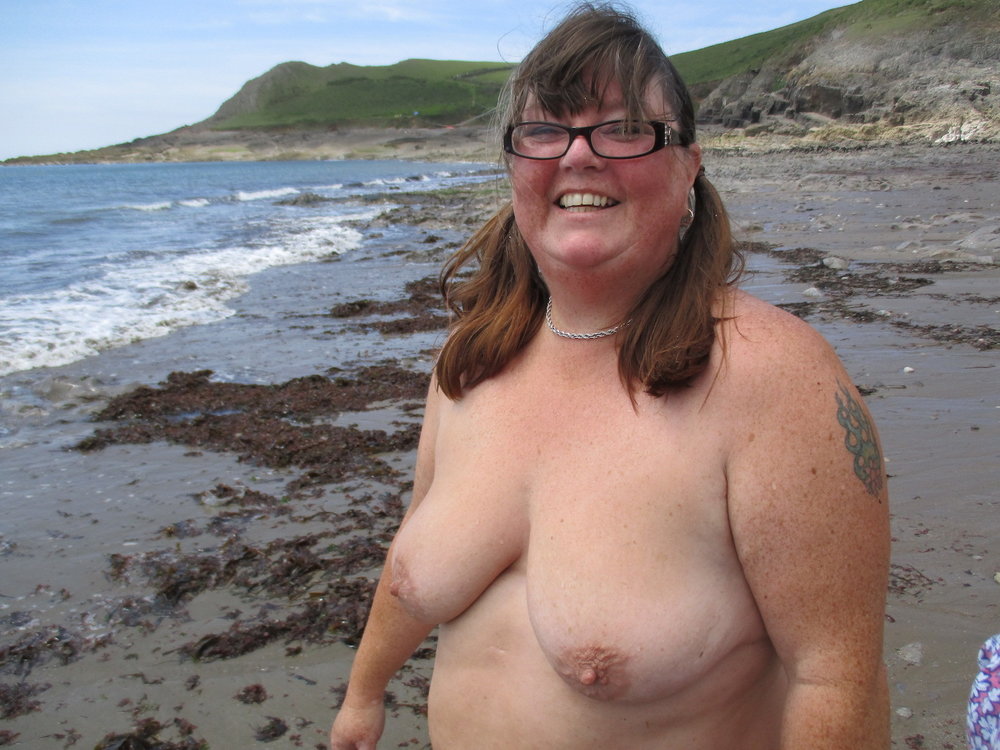 Andy and Kathy Eke welcomed me to their site and showed me around, yes I was fully clothed but Andy was not – I was not sure where to look – focus on his face do not glance anywhere else – so I mastered that – back to my room to get well…… undressed!
I stood wrapped in my pashmina and dressing gown looking through the window for the longest 10 minutes of my life! – It's now or never, deep breathing I can do it.  Picked up my book and trying to look so nonchalant and unfazed walked outside.
I chose a seat by the pool alongside a few others – OMG they are naked I'd never seen so much bare flesh on show at any one time before.
Ironically I felt very out of place and embarrassed as I was still all wrapped up.
So yet another deep breath, looked around and carefully unwrapped my very white and bare body – and do you know – there were no bells ringing, no sirens went off, no police came to arrest me – OMG I was naked and in public in front of complete strangers!!!!! 
I stayed there for 2 nights – went home, 2 days later bought a tent and camping equipment and went back the following weekend.
The next big step for me was to find a club much closer to home, but if I find one will I see someone that I know or that I used to work with – how embarrassing could that be?
But with my head held high and with my newly found confidence off I went – yes I did meet someone who lives near me and indeed a lady who I was in high school with, but everything is just fantastic, everyone is just so friendly and kind.
I am now a provisional member of the Vale of Glamorgan Sun Club in South Wales, I have a whole new circle of friends and am loving every minute of it.
My advice to other single women who have ever considered or thought "I wonder" about naturism – go for it, I've not had one negative response, everyone that I have met has been so kind and helpful and have given me lots of very useful  advice and guidance.
I'm definitely feeling fabulous at being naked and 50 !!  
Jane Baker
Find more information on our 'Women in Naturism' initiative including help for those guys out there with a hesitant girl! https://www.bn.org.uk/news/news/women-in-naturism-r332/