Skipper Jim Hutton documents two wonderful weeks in a Naturist flotilla on the warm Ionian Sea, and the pride of receiving the Captain's Choice award
From the Skipper's Log.  23  Sept 2016   Position 51° 45.18N  2° 14.7W  Wind SW f3
When I raised the idea of a Naturist sailing trip last November, I had no idea how popular it would be, and how complicated to get launched.  Ten months later, 10 intrepid sailors are doing their final packing before heading to Gatwick to take the flight to Preveza, Greece, to join the first ever Naturist flotilla.  Two weeks of naked sailing around the beautiful Ionian Islands lie ahead. We have booked 2 boats in a Sailing Holidays flotilla to the south Ionian Sea of Greece.  We take over our boats at Nidri, on Levkas, and will be sailing south towards the mythical islands of Ithaca and Kefalonia (home of Captain Corelli's Mandolin).
From the Skipper's Log.  25 Sept 2016   Position 51° 09.44N  0° 11.03W  Wind calm
Gatwick 0500 hrs UTC.  Quite difficult getting us all together - we come from almost every part of the UK, and this is the first time some of us have met.  Sailing experience varies from an experienced skipper who races his own yacht around Skye, to a gentleman who has never set foot on a boat before.  All sorts of backgrounds - retired dentist, ex BBC lighting designer, actuary, narrow-boat skipper and others, all brought together by a love of naturism and an interest in sailing.
From the Skipper's Log.  25 Sept 2016   Position 38° 41.94N  20° 42.48E  Wind NW f2
Everything seems to have been a mad rush - flight to Preveza, coach to Nidri where our boat is waiting for us, baggage aboard, meet our lead crew Sam (skipper), Jack (engineer) and Amy (hostie).  Our boat is a Beneteau 361 called 'Sollion' (the name of a city near here captured by the Athenians in 430 BC.).  Lots of room on board - a cabin each and a generous sized saloon and 'heads' (toilet/shower room).   Only time to sort out the basics, then it's off to the taverna for our first Greek meal of the trip.  'Gavros' (little fish aka whitebait) for me, yum !
From the Skipper's Log.  26 Sept 2016  Position 38° 40.09N  20° 46.76E  Wind NW f1
We have sailed 14 nautical miles today, after quite a relaxed start.  Our lead crew gave us a thorough briefing on everything on the boat, sails etc. and then we cast off and set sail.  Plenty of time to head for a favourite bay for lunch and a swim.  We are now tied up on a little jetty outside George's taverna on Meganisi, enjoying an aperitif before joining our fellow flotilla sailors for dinner.   Group meals are optional, but they are a great way of making friends - not surprisingly a lot of the conversation is about sailing.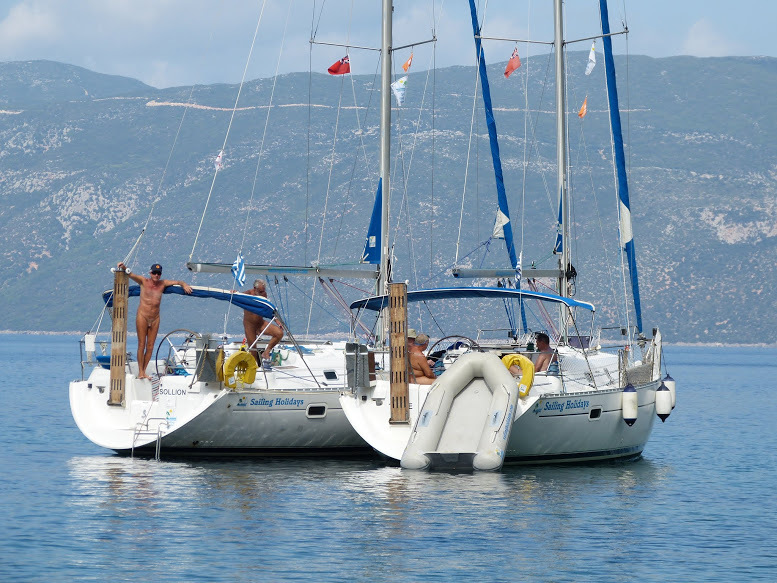 From the Skipper's Log.  29 Sept 2016   Position 38° 28.41N  20° 40.4E  Wind NE f4
We have already spent a couple of nights on little Greek islands; today we are en route from Kastos to Frikes on Ithaka (the home of Odysseus in Homer's fable).  We have stopped off to anchor in a pretty bay, to have lunch with our companion naturist boat "Thebe".  A historic meeting - the first time two BN boats have sailed together in the Ionian -  I hope it won't be the last !  The sun is shining, the sea is warm ... a perfect day.
From the Skipper's Log.  30 Sept 2016.  Position 38° 18.06N  20° 36.07E  Wind NW f1
Can't believe it's our second week already.  We have had a great first week's sailing with Bruce & Campbell.   Good winds, lots of sun, and Campbell's special Greek salad for lunch, usually enjoyed in a secluded bay.  A swim off the boat first, of course, in 25°C water, clear enough to see all the fish swimming around us.  Don't miss the video, now available on YouTube,  taken underwater by John.  He has just joined us - this is his first time sailing,  Rod and I are enjoying showing him the ropes.  It's glorious weather -  I am typing this on deck in Ay Euphemia, a little port on Kefalonia.  Warm night air, Ouzo to hand, and our restaurant just yards away across the quay.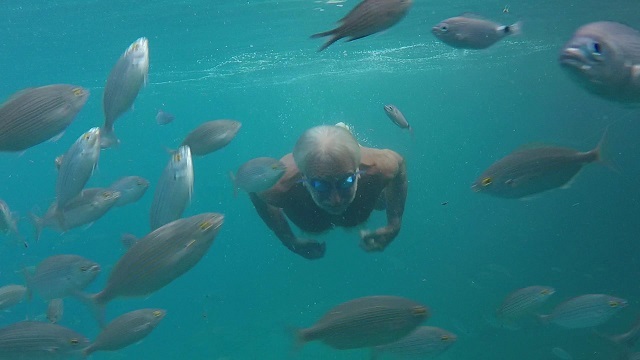 From the Skipper's Log.  7 October 2016.  Position 38° 39.61N  20° 45.86E  Wind NE f3
Last day today.  We had a big storm last night,. The only bad weather we have had.  The boat was being thrown about a bit, but our lead crew were on hand to make sure all our ropes were holding, and all was well.  Beautiful clear blue sky now.  We are moored in Spartahori on Meganisi Island, about to head out.  Force 4/5 winds are forecast, so should be some exciting sailing.  Then back to Nidri for the traditional final group meal, when the lead crew hands out an award to each boat. We'll probably get the 'Naked Sailors' award again.  By now most of the flotilla know what we wear when sailing; no-one seems bothered by it and some like the idea of feeling the warm breeze on the bare skin.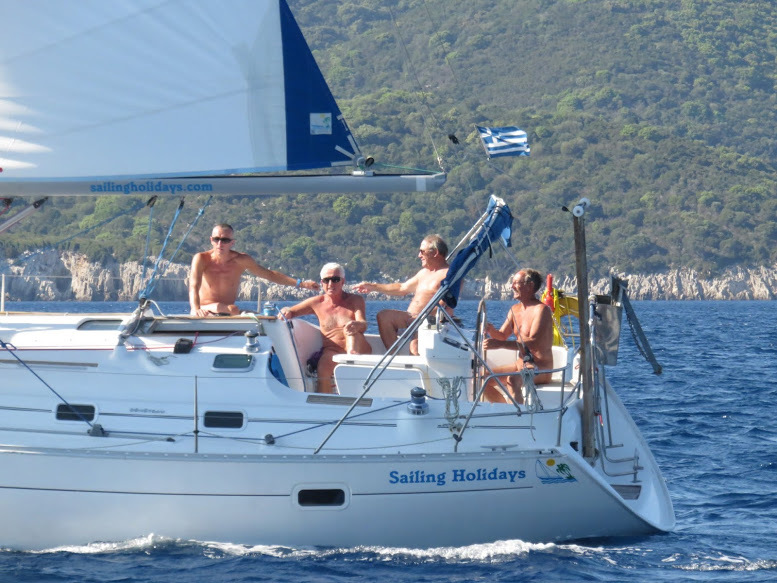 From the Skipper's Log.  8 October 2016.  Position 38° 42.40N  20° 42.84E  Wind NW f1
We are sitting sadly on the terrace of the base hotel in Nidri, waiting for the coach to take us to the airport.  As we hoped, we had a cracking last day.  Winds were  F5, so we blasted out from Spartahori and had a great sail up towards Levkas.  Time for lunch and a swim in a sheltered bay, and then a fast return leg into Nidri.
At the traditional last-night bash we picked up the lead skippers 'Captain's Choice' award, which we are very proud of.   The lead skipper particularly remarked how well we had all worked together, which is how we felt too.
Boats are already booked for the next trip in September 2017.  We want everyone to be able to share the wonderful experience of sailing naked in the warm Ionian Sea, so if you are interested, get in touch.  Anyone, from a complete beginner to an experienced skipper is very welcome to join us.  If you are a BN member you will find full details in the BN Sailing SIG, otherwise contact hutton.jim@gmail.com