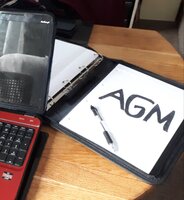 Here's a reminder for all BN  Eastern Region members and clubs. Our AGM is on Sunday 03rd April at Blackthorns Sun Club near Bedford. The meeting starts at 11am. If you would like to attend the AGM., or have a club report to submit, then you can email Cath Bromley at; easternsecretary@bn.org.uk. 
There is a Free Buffet Lunch, you just need to let Cath know that you would like the Lunch too. Here are more details;
Maybe See you there.
Andy