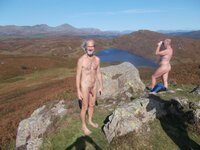 2021 – Naked Outdoors.
2020 has been a year best forgotten in terms of promoting the usual annual club events in the North West region, so where exactly the New year will take us is – as yet, unsure and difficult to predict. We did manage quite a few member led events such as the Beacon Tarn Naked walk and skinny dip (twice), a handful of beach days including the new find at Roanhead in Cumbria (thanks to Garibaldi Nick) and a Naked evening at Dorothy Clive gardens – thanks to John Rodgers for arranging that one. Thankfully John will be continuing to lead Naked walks in the south of the region, despite retiring as NW Coordinator.
It's been a frustrating first few months for Amanda Lee, the new NW Coordinator and myself leading the Campaigns task force, when we were both so enthusiastic about what we planned to achieve working together. The most positive aspect was the expansion of our 'North West Action' workplace group and the emergence of the new WhatsApp group 'NW Outreach', bringing together BN members from around the region to engage and take part in regional events, enabling us to walk Naked safely outdoors with 'safety in numbers' being applied, registering for 'Track and Trace'.  
The many new faces are hard to keep track on, so the 'NW Outreach' group  intend to hold regular Zoom sessions before and during the season to familiarise ourselves again and make concrete plans for who does what and where during 2021 – any new ideas or suggestions for beach locations etc are welcome. Don't forget we already have St Annes beach for Naturist use on any day of the week, so maybe we could utilise our WhatsApp group for regular meet ups there.
I aim to create a national network of Campaigns volunteers for 2021, so this should lead to more success if the Covid-19 vaccine is successful – hopefully a new volunteer applicant will be joining the official campaigns team soon - he will be leading and expanding the Naked walking programme locally, applying his knowledge and experience of Naked walking throughout the Lake district.
The unpredictable increase in interest for Naked walking has been a real eye opener and I would also like to look at expanding on the Naked Garden visits - another outdoor initiative that is always popular and well attended. These can be facilitated midweek or after the Gardens' normal hours at weekends. I've already had a positive reply from the manager of a gardens venue near Warrington – inviting the two of us for a day visit in the Spring to see if it is suitable. All these to supplement the national BN Events programme.                                                         
The Great British Skinny Dip…  
I am sure you are aware of my passion for this campaign and I hope to return to finding many more new venues – this time with the help of campaigns volunteers nationwide, challenging discriminatory refusals vociferously through the appropriate channels. The new venue in East Lancashire have kept in touch and seem keen to facilitate us on the restart of the campaign. Also the new manager at Penketh has promised notifications when appropriate, Wigton are always in touch with possible restart dates, these are all updated regularly  on NW News online.
Ron O'Hare (Campaigns Task Force, Team GBSD)
Email: ron.ohare@bn.org.uk