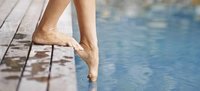 A British Naturism 'Women in Naturism'  campaign comes to Penketh.
As part of the popular 'Women in Naturism' campaign, Ladies will be admitted free of charge at the Penketh skinny dip events, with the next event being scheduled for Friday 29th May 7-9pm (subject to change, please check using the link above). Please arrive before 7.20pm - As advertised on the Great British Skinny Dip website.
Ladies making their first appearance at a Naturist swim can request a personal welcome with assistance from one of our 'Women in Naturism'  North West campaign coordinators, please notify us in advance and arrive around 7pm.
The price for Males remains at just £6 for the 2 hour Naturist swim. There is no need to book – Just turn up, but for your first visit please bring Photo I.D. and proof of address.
Any questions, please email: nwnewsletter@bn.org.uk
Event location…
Penketh Pool, Honiton Way, WA5 2EY.
Ron  (Team GBSD)