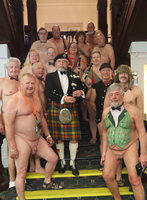 The Gathering has always focused on normalising social naturism. This year is no exception. The Glenmorag Hotel will be exclusively Naturist for 10 nights commencing 3pm on 1st May through to 10am on 10th May.
This is a one off unique opportunity for naturists to enjoy an inexpensive holiday in the gateway to the Highlands.
The 8th May through to 10th May have been added to our usual calendar to accommodate the change in UK Bank Holiday to celebrate 75th Anniversary of  V.E.Day. Guest from across Europe have already booked and we want to share the celebration of the freedoms we all enjoy, with a special gala dinner.
Now, for the first time, we invite BN/INA club members, who may not be individual members , to join us.  The 1st to 4th is almost fully booked but we are keen to see in equally good attendance for the second weekend. In fact, now that you book direct with the Glenmorag Hotel on 01369 706346, you can choose any duration you wish. Just like any hotel , anywhere. (But not at these prices!)