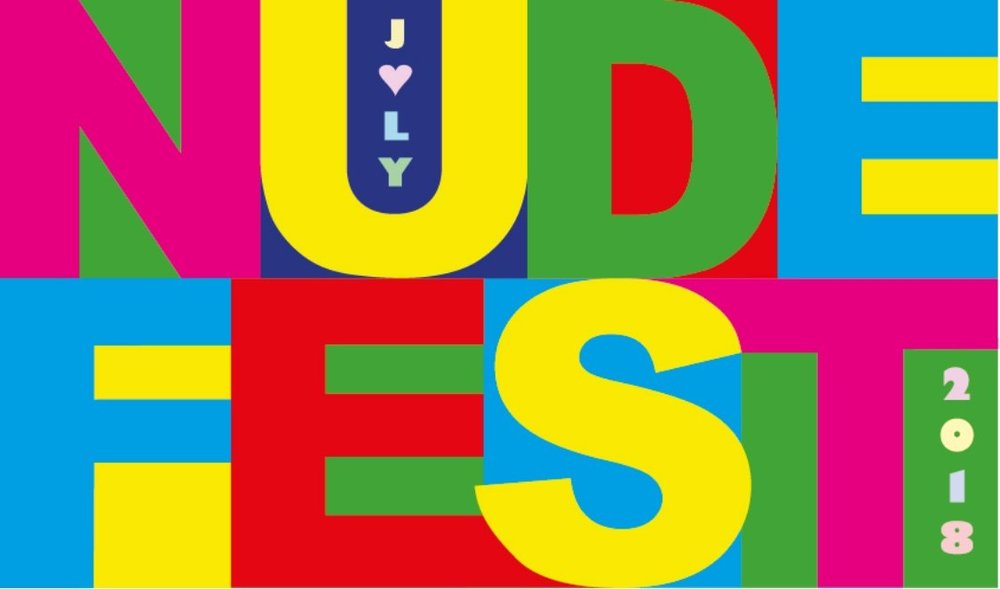 Nudefest 2018 will again be held at Thorney Lakes Caravan and Camping Park, Muchelney, Langport, Somerset (TA10 0DW) from Monday 9th July until Monday 16th July. The large rural site will be completely clothes free from 1700hrs on the Monday which gives early birds time to strip off and catch up with friends prior to the official opening at 1500hrs on Tuesday. Between these times the events team will be setting up plus organising a press and media morning so facilities may be limited, but we will do our best to ensure we are up and running as soon as possible.
CLICK HERE TO BOOK DAY PASSES / RUN PASSES
International visitors are particularly welcome at Nudefest and INF-FNI card holders receive discounted rates. Bristol International airport is a short journey away with bus connections to the nearby village of Curry Rivel via Taunton. BN will then, if notified in advance, arrange collection from Curry Rivel.
The Nudefest camp site at Thorney Lakes consists of two main camping areas Orchard (previously Village, right of entrance) and Greenfield (previously Quiet, left of entrance). At the far end is Willow Field, a huge area of open space (was called the Rally field, with a large toilet trailer) and the place if you wish to pitch with friends. British Naturism will be hiring in extra luxury toilets and showers (even more than last year) to complement the existing ones and we will work hard to create a festival feeling with a huge main marquee (bigger than last year) plus several smaller ones clustered around this to form an L shaped sheltered sun trap, with craft, massage, catering and shops areas. Everyone is encouraged to sit and chat here creating a friendly village like atmosphere to encourage the community spirit and helping people,  perhaps new to naturism, relax and make friends.
The main marquee will house a well stocked bar selling locally produced ales, cider and lager manned by Tim and his friendly professional team of helpers.  Attached to this will be a smaller quieter 'lounge' area with free daily papers. Further along will be the catering marquee providing meals throughout the day. Next to this will be a 'pop up' Gazebo for acoustic entertainers, show and tell, workshops, stories etc and further along the large Craft tent.
Nudefest 2018 is the biggest naturist festival in the Country and Official Opening is from 1500hrs on Tuesday with a Mad Hatters tea party with a free cream tea and live music, giving everyone a chance to say hello to one another. The programme will be worked upon in the next few months but will roughly consist of craft sessions, yoga, painting, fishing contest, 5k/10k run, live music, drum workshop, Morris dancing, outside visits, Gin Distillery, Newton House near Yeovil  www.newtonhousegin.co.uk (generally clothes free), traditional discos along with the famous silent disco, clay pigeon shooting, barn dance with rodeo horse, quizzes, fire walking and a host of other activities all designed to keep people entertained from 0830 till late in the evening. Last year we had over 85 different sessions.
To help people get the most out of the week we suggest a few items people may wish to bring along, a plate and cutlery to cut down on waste if using the catering facility, pedal cycle to get around on  - the site is huge, a daft hat for the mad hatters tea party, fishing equipment for the fishing contest, a local beer for the Mi Beer sessions, Cowboy hat for the barn dance, any musical instrument you may wish to play, if you have a hobby or interest you could use the Pop Up gazebo to showcase your talent or interest, perhaps you may also wish to bring along your Starship uniform for the Saturday's Mothership adventure – think star trek meets alien, or perhaps you would simply just want to bring along the kettle and a deck chair..…
The entrance fee includes all the on site entertainment which costs £1,000's - with the exception of the fire walking which we will be asking for a financial contribution towards and outside excursions.
Electric - we suggest that people consider sharing electric points with friends but the main two camping fields Orchard and Greenfield are for people staying the whole week with Willow Field, available to take any number of people and short term stays, but is limited to 48 daytime electric points (daytime electric is switched on and off when the main marquee generator is switched on and off). An electric point for charging mobiles and the like will be available for those without access to electric.

Where possible we will site people together with friends.
** For people arriving prior to Nudefest opening i.e. Sat/Sun 7/8th July please book via the BN booking site. Scroll for details. 
Please note Normal 'check in' will be from 12pm but for the first few days 'check in' will be from 9am only.
Please keep an eye open on the BN forum and the magazine for any changes, updates. For further information or questions please email info@nudefest.co.uk . But do get the date in your diary now and book up for Nudefest 2018. Its going to be even greater than 2017…