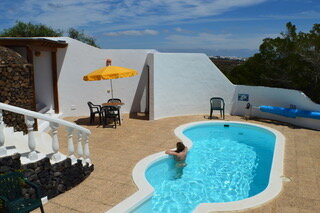 Villa Penas Blancas is located just South of La Asomada on Lanzarote in a fabulous unique eco-friendly biosphere area in a walled and protected private secure setting.  It's in a semi rural area 400 yards off the LZ-2 road between the villages of Macher and Tias, Lanzarote, Canary Islands, Spain. It's a unique retreat villa situated in a quiet location known as the Tegoya de Macher, but it's only 10 minutes from Arrecife (ACE) airport and five minutes from several supermarkets, bars and banks and three of the very best restaurants on Lanzarote. From its many terraces it offers spectacular 360 degree views across much of the south of Lanzarote including Puerto Del Carmen, La Asomada, Femes and Conil and further to Fuerteventura.
Villa is not overlooked from any direction. It features 5 bedrooms and 4 bathrooms. It's situated in grounds on its own small hilltop. Property has a 5100m2 plot with 553m2 living space and constructed in both typical Canarian and Gaudi style. Naturist owner (Tony, Selborne, Hampshire UK) and fluent English and Spanish speaking Naturist Villa Manager (Vince) who lives 20 minutes away from the Villa.   (Vince - left and Tony - right, are shown in the photo together at the bottom)
Contact : Tony Hole (Owner)
tony@ttmm.co.uk
Tel: +44 1420 511 555. / +44 7836 590999.
Google Earth location: 28 57′ 20.00 N.
Pease enquire directly with Tony. Full details will be given.
Villa Key Features: Substantial, light and spacious naturist property in a protected eco area of Lanzarote. No neighbours, noise or passing traffic. 360 degree views. Secure elevated fabulous location. 5 bedrooms & 4 bathrooms. Eco friendly solar and electric heated swimming pool & Canarian style wood burning oven. Main Villa has 3 bedrooms, (3 bathrooms, 2 ensuite). Self Contained Apartment has 2 bedrooms, (2 bathrooms, 1 ensuite). South Facing sunshine aspect plus many terraces for shade if needed. Air conditioning to main bedrooms. Volcanic wine cellar. Italian Gaudi style unique internal spiral staircase. Ample on-site private parking for 6+ cars.
Rental price is from £975 per week.  Change over day and arrival/departure times of day are flexible. Minimum stay is 6 days.
Updated : May 2020.  Please note that owing to travel restrictions in Spain the Villa is not available for guest rentals until mid July 2020. Please enquire for availability after that date.
Reviews from 2019:
"I'm an author. Also a naturist. I needed 'space' to complete on my publishers book deadline. I booked this property at short notice. The owner was very cordial and professional. I got my sun tan and completed my book. I'd certainly go again".
"Went with 3 girlfriends for a week away in July. Loved it! Owner was easy to deal with and villa manager was very helpful with local knowledge and advice for restaurants".
"We stayed at this lovely villa with another couple last month (January 2019). The weather treated us well and the heated pool although not huge was a real luxury. The beds were large and comfortable and the villa had all we needed. Booking with the owner was straight forward and the local on site manager was very helpful and with an extensive knowledge of Lanzarote. Many thank to both! We'd certainly visit again. Best wishes from Jim".
"I wanted to thank both of you for your help, hospitality and kindness for the duration of our holiday. We had a super time in the villa, enjoying the pool and also visiting the sights of beautiful Lanzarote".
"Hi Tony. Your villa is a lovely spot in a great location with excellent views. Swimming pool heating was much appreciated in December and we swam each day (naked of course!). Exactly what we wanted. The booking process was easy and with good communication. I'm a humanist author. Also a naturist. I needed 'space' to complete on my publishers book deadline. I booked this property at short notice. The owner was very cordial and professional. I got my sun tan and completed my book. I'd go again".
"I stayed at this villa with my wife late April / early May. We wanted a villa located on Lanzarote that gave us some space and the opportunity to take walks or go cycling. We also wanted a villa that was near enough to the naturist beaches and in a reasonable distance of the local supermarkets. This villa had all of these things so we booked it. The (English) owner was easy to deal with, as also was the villa manager and we would definitely book again".