BN's new Events Manager Mark reports on our a fantastic event - an adrenaline-rush filled weekend in the Splash Landings Hotel at Alton Towers, and this year we had something to celebrate - a landmark tenth year at this prestigious venue.
For those who haven't been (and I hadn't until this one) Splash Landings is a hotel with waterpark that British Naturism take over for a weekend of clothes-free fun…and by fun, I mean fun! I had read about the event with envy and longed to go but always had work commitments. However, this year it was all change; not only could I go, I had just taken up the position of Events Manager for BN.
Having never been to the venue and it being my first BN event to organise I was keen to make this a good one, particularly as it was the big 10th anniversary. Fortunately, the majority of things were organised; my predecessor had booked some great acts (more on that in a bit) all I had to do really was fill a few gaps and pull it together.
My background is in events - my company run several major events all over the UK. It's what makes me tick so seeing a happy bunch arriving to Alton Towers on the Friday night ready for clothes off at 6pm was just fabulous!
Friday evening was a somewhat relaxed affair with people catching up with friends and meeting new faces along the way.  Linda and Ian hosted their quiz in the main bar whilst some took their first adventure at the waterpark.  As it so often does, this weekend coincides with Children in Need and through a quick collection over £200 was raised for this worthy cause. It was then on to the disco with Richard who ended up spinning the tunes until 2am! (We had a few party animals on our hands…you know who you are!)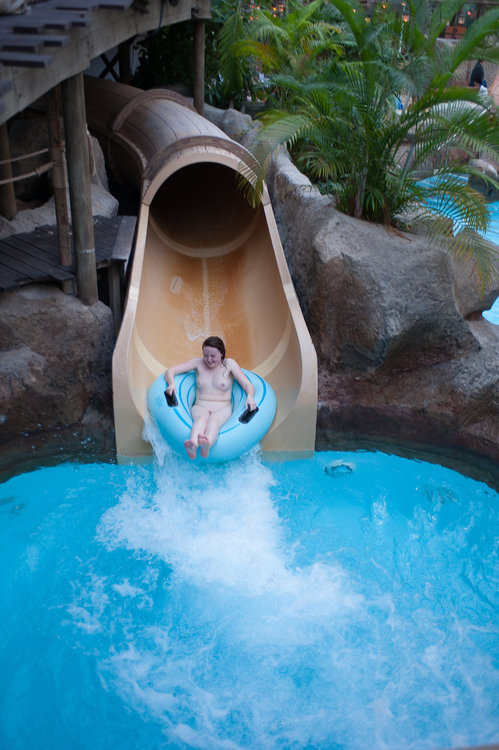 I'm not sure how many of the 2am revellers made it to the first activity on Saturday morning but Andrew and Sheryn led a brave few into the near-polar conditions for a brisk morning run whilst the majority of guests stuffed their faces at the all you can eat fry-up selection in the restaurant. The food at Splash Landings was delicious. In buffet-style you could eat your way around the world in 20 dishes. Although if you were after a light bite there were fewer options (something we are working on for this year).
I really enjoyed putting the program together for Alton Towers and from feedback I think we got it spot on. There literally was something for everyone. There were several wellness sessions across the weekend including yoga, tai chi and reiki plus we were the privileged hosts to the launch of the now famous Nude-ercise, with Helen joining us to host her first ever session. Sports and fitness were well represented, Aqua Zumba in the waterpark and belly dancing made a welcome return. There was a bit of rough and tumble in the pool with water polo (I think some will still have the bruises!). The highlight for me was the indoor archery session though, this was great fun and subscribed to the max.
There is plenty of space at Splash Landings so despite there being hundreds of naked bodies in the building there is plenty of room to get away from it all, have a read or sit in the outdoor hot tub and relax.
Saturday night was the highlight of the weekend for many - a Masked Ball to celebrate our 10 years at Alton Towers in style. All through the day the mask-making craft table had a constant stream of visitors eager to create a bespoke face mask for the party and they did not disappoint either; there were some amazing creations on display.
As the evening approached we cracked open the UV reactive body paints to prepare for the night ahead. The activities started with a family fun quiz hosted by Andrew and Sheryn followed by our first act of the night; the awesomely talented and equally charming Sunjay, an award winning folk artist, who enraptured the audience - he really was incredible.
After a brief break for the all-important 10-year anniversary cake it was time to get dancing to The Swallows, a young four piece from Birmingham, all still at university, who really did rock the dance-floor  - and hats off to them too for getting into the naturist spirit, I'm sure it will be a gig they won't forget in a hurry…
During this the UV lights were thrown on and the bodies glowed! It was fab - some of the most imaginative designs I have ever seen. I must at this point thank Andy and his team for all the sound and lighting plus Richard our naked DJ who had everyone dancing to the wee small hours.
As you can tell it was a great weekend, however I can imagine many people reading are wondering 'is it for me?'. In all honesty, I was apprehensive, having never been to a hotel-based event before.  To my delight, I had a superb time and met some lovely people too. There was a good number of younger couples in their 20's and 30's and groups too. This was encouraging to see and hopefully something that will continue to build. I have to admit I was a little disappointed to see so few families there, particularly with the waterpark being a huge part of the weekend. We had 11 children in total but it could have been so many more. I am really keen to work on developing family links to encourage them to be a significant part of the demographic at events such as these.
The sign of a successful event is when, even as an organiser, you are sad when it all comes to a close and this was the case with Alton Towers - on Sunday morning at midday I felt sad to be leaving. I really can't wait for this year #11 in November.
Booking is already open and it will be another sell-out event. £50 will secure your room (up to 2 adults / 2 children) and the balance isn't due till much later in the year. Book to guarantee it now, get saving and see you in November.