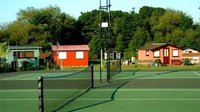 Looking beyond COVID 19…
It's certainly difficult to predict how long it will be before we can return to enjoying our Naturist lifestyle to the full extent again but what exactly will have changed? We all enjoy flying to a warmer climate and sunbathing naked but will the appetite be there to board an aircraft or book a cruise so readily in the foreseeable future? This is probably doubtful - or at best, debatable.
The majority of people I speak to say they would be very reluctant to simply return to booking foreign holidays immediately, sitting shoulder to shoulder with fellow travellers, so will our British based events, clubs and swims profit from this? I believe that is entirely in our hands, but as a former club membership secretary, I am fully aware that the window of recruitment for clubs is a limited one, from around April to August for most landed clubs unless they have an indoor pool of course. So for most of these clubs to take advantage of this obviously depends on how long this 'lock down' situation continues… 
The many Naturist swim locations across Britain could benefit from increased attendances all year round and the GBSD campaign could expand exponentially with increased promoting. Online events have already become popular and they will no doubt be here to stay. We have already seen a welcome increase in BN member numbers, but considering there are around four million Naturists in the UK and there are less than nine thousand members within BN, then we  obviously have a massive opportunity to expand long term -  post 'lockdown'. This NW webpage contains a list of all the north west clubs, swims and events.  
Looking further forward, there will certainly be many opportunities for both clubs and swims to capitalise on this unique opportunity to recruit by taking advantage of their club's BN membership and using the free magazine space and webpages - utilising online articles that are widely available for clubs and swims. Your regional co-ordinator's contact address is displayed in the BN magazine. The clubs with the closer connections to British Naturism will obviously be in an advantageous position, ready for the influx of visitors, should they arrive! 
Clubs
New initiatives and promotions can be utilised, such as 'club open days' and clubs could attempt to redress the gender balance by engaging in the 'Women in Naturism' campaign, such as promoting a 'women visit free' month during the quieter periods. 'Solos' weekends' are always well attended and 'Families' weekends' can also be popular - The latter went well when I trialled them. If you wish to write an article about your club, just send it to me and I will insert it into the north west webpages or this north west newsfeed page. 
Swims
Swim venues could throw open their doors wider by adopting the same procedures that Team GBSD are currently operating, such as 'Just turn up with I.D. on the day' or the 'Ladies visit for free' initiative which we have recently trialled successfully at some GBSD events as part of our 'Women in Naturism' campaign. For swims and beach events which include the annual Morfa Dyffryn GBSD skinny dip, (now rescheduled for September 5th), there are many positives that can be taken from a situation that British based Naturists are wanting to stay closer to home, eager to enjoy Naturism in beautiful Britain! 
Ron O'Hare (North West News).
mailto: nwnewsletter@bn.org.uk