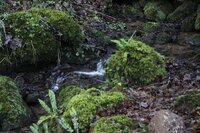 Due to late availability, we can now offer you a naked visit to Birchtree Well Gardens near Monmouth on Sunday 3rd July from 2pm to 5.30pm. Tea, coffee & cake will be provided.
Birch Tree Well is situated in the heart of the Lower Wye Valley, amongst the ancient habitat of woodland, rocks and streams. These three acres are shared with deer, badgers and foxes. It has a woodland setting with streams and boulders which can be viewed from a lookout tower and a butterfly garden planted with specialist hydrangeas including many plants to also attract bees and insects.
Please note that, although parts of the garden are suitable for wheelchair users that there is a rock and woodland area with narrow and cumbersome paths. Lanes leading to Birch Tree Well are single track and steep.
More details can be found here and tickets are now available from BN Shop here.
 

---