Event details
Naturist use of high-end spa facilities in Harrogate. Massage and other treatments are available (but these are not naturist). Please refer to the Eden Spa web site for details of treatments and prices. Note: Treatments must be booked and paid for in advance.
*** Ticket price reduced! ***
Our concept is to offer high-end spa facilities to those people who might shy away from the 'traditional naturist lifestyle' but would like to experience for the first time or continue to enjoy public bathing textile-free. To this end, we have agreed with Harrogate Borough Council to use the Harrogate Turkish Baths. Our policy is to insist on our clients respecting that whilst the spa areas including the jacuzzi are textile-free, robes and footwear must be worn in the rest areas, corridors and in the cafe for refreshments. This is out of respect for the staff that belong to the baths, and also to give a sense of comfort to a new generation who might only be used to continental spas where this is the expected etiquette. 
We will be fully-inclusive, with no barriers to gender or sexuality. Our events will be mixed sex, with no restrictions on singles. We will, however, have a no-tolerance policy for those clients engaging in overt public displays of affection or making others feel uncomfortable through inappropriate sexual behaviour or conversation.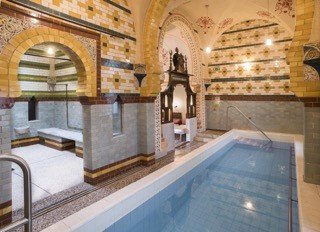 Contact details for Eden Spa:
Website: http://edenspaexperience.com/
Instagram: http://www.instagram.com/edenspa.experience/
Mobile: 07824 513734
User Feedback
There are no reviews to display.