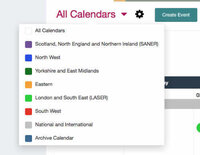 1. Calendars
All of the events organised by BN, or by clubs and individuals for BN members, are listed in the calendars which can be found under the Events tab on the top menu.
There is one calendar for each region and one for UK wide events like the Great British Skinny Dip. To see events in a particular area you can simply click on the drop-down list of calendars and select the one that you want.
You will also notice that each calendar has a different colour and these colours new also used to colour-code the events in the calendar.
2. Big Days Out
The Big Days Out are a collection of some of our bigger and more popular events.  These events are also included in the main calendars but are highlighted on the Big Days Out page to make them easier to find and feature.  If you're looking to attend one of our bigger events with an opportunity to meet lots of BN members then having a look at some the Big Days Out would be a good place to start.