With virtually no events or mass gatherings having taken place since lockdown began in March, it was a welcome novelty when 220 volunteers stripped off, except for regulation white face-masks, to form an art installation for the renowned American photographer Spencer Tunick at dawn on 12th September. Staged in the grounds of Alexandra Palace in north London, it was carefully organised under strict Covid-19 protocols, with temperature checks on arrival at 4 a.m. and social-distancing throughout. 
With rules introduced less than 48 hours later limiting groups to 30, later reduced to six, there seems no likelihood of any repeat this year. One BN member who took part said that it was strangely the most 'normal' thing he'd done for months, and great to be with lots of other people sharing an experience, even though it inevitably did not have quite the same atmosphere and camaraderie normally experienced at such installations. Whilst it was great to strip off and be part of a shared artistic endeavour, there was a keen wind making it hard not to shiver between the three poses, which were then followed by a set-up for couples. 
The whole event was sponsored and organised by Sky Arts, to celebrate the channel moving to be free-to-view, and made press reports on the BBC and most newspapers. 
'Just so amazing to be able to take part in an art installation that promotes the naked body with all its imperfections and beauty. In the corona 19 crisis to show that the mask and social distancing is possibly under all circumstances and draw attention to the need to wear one attracted me to this project as well.'
Jan Purnell - who travelled to London from Llantrisant on the edge of the Rhondda valley in Wales.
'I don't think Spencer Tunick is actively promoting Naturism, although he obviously realises that Naturists are interested in his naked art installations.  As far as I'm aware Mr Tunick celebrates the naked body in all its forms, and doesn't discriminate against anyone.  I am not a Naturist, and I'm actually a bit shy about my body under normal circumstances, but I love Mr Tunick's work.  I consider it a privilege to take part, and share in the experience with so many others.  It makes me feel free, liberated and alive, and I love every minute of it.  I am 70 years of age, and hope,  that I may be blessed to take part in future installations.'
Janet Bucknall - who travelled from Hull, East Yorkshire.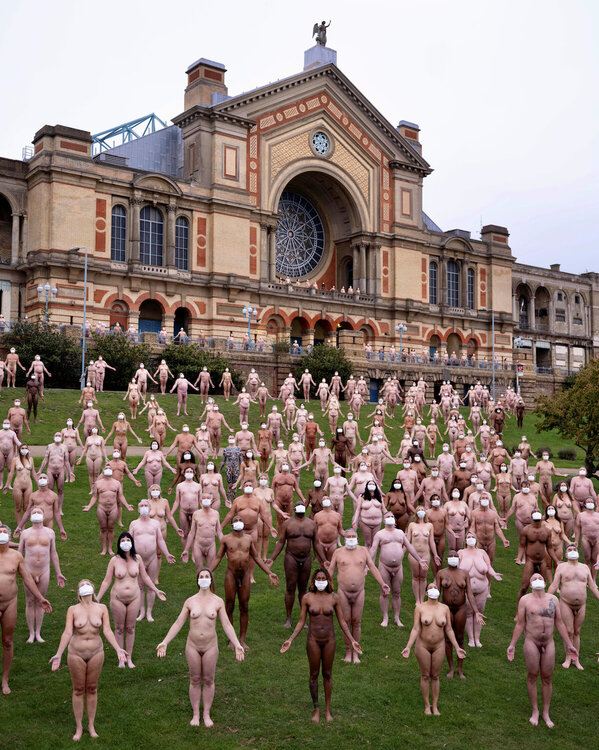 Documentary photography of Spencer Tunick installation courtesy of the artist.