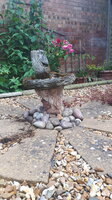 Robert has announced; some news about an event in our region. Suffice to say this is going to be a popular event with people already asking for tickets.
GOOD NEWS.
After all the cancelled events it is good to be able to report an event that is going to take place. The visit to Fullers Mill Garden on 9th of August will take place. I spoke this morning with Annie Dellbridge, the Head Gardener. Normally the garden can easily cope with 200 people but due to social distancing numbers have had to be reduced. Initially we have a limit of 50 people but they do hope to allow us to go higher once they have some experience of opening in the current situation with Covid 19. 
This a great event that will support two regional charities, These are East Anglian Air Ambulance and Fullers Mill Garden. 
By Robert Finney