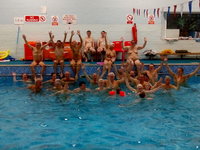 Happy Birthday Wigton! 
Yes, the Wigton Naturist swim, which is now a permanent monthly Great British Skinny Dip, is almost 12 months old and still going strong. The locals are now supporting this swim in their numbers, taking over the initiative, which was well supported initially by the many friends we have in the North West and Saner regions. The swim still offers amazing value at just £5 per person - please bring I.D. for your first visit.
The inaugural trial swim was held on the 10th of November 2018 and attracted 53 Naturist from all over the North of England and Scotland. On the approach to the first event, expertly written press releases were distributed from the BN Commercial office, which led to Radio interviews for myself as promoter and a superbly positive interview with Roger Lytolliss from Newsquest in December. The article printed in the Cumbrian News and Star was inspirational and helped to propel the swim positively into 2019.
I have recently spoken to Roger and asked him if he would be interested in covering the anniversary with a follow up article, he is currently writing the report after I updated him on the progress made, with attendances now in the 20's replacing the 'clothed swims' which attracted only half a dozen at best.
I must say a huge 'thank you' to everyone who supported this venture, without your assistance it would have been almost impossible. We hope to see you again on the 9th November when we will be attempting to take in the Wigton GBSD from 2 till 4 pm followed by the Poulton Naturist swim & Spa on the same evening from 7 till 9 pm.
Ron  (Campaigns Task Force)